Last updated 3 December, 2020
Press Release: Adventure Stories for Daring Girls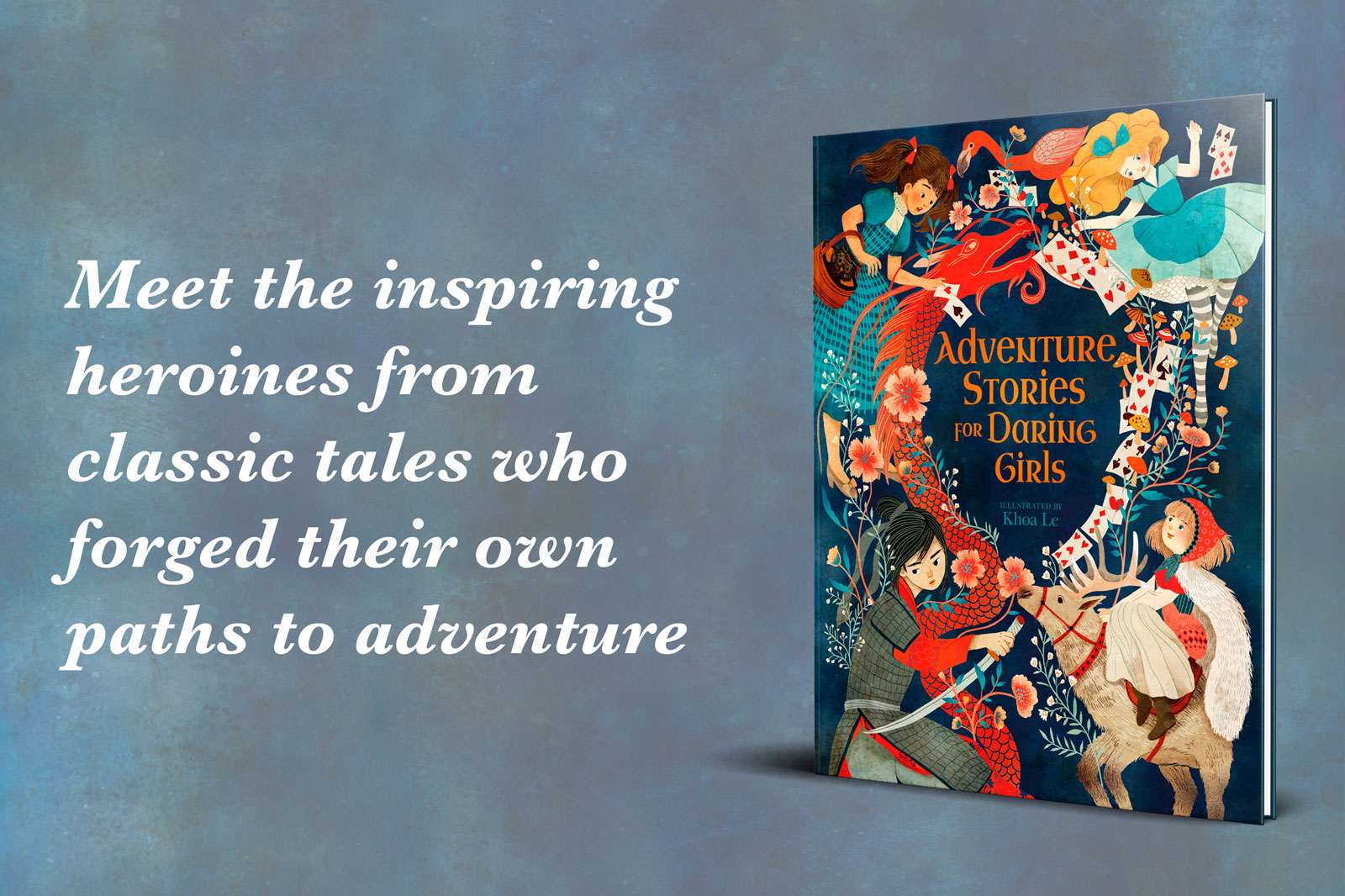 These girls don't wait at home while boys have all the adventures…
Adventure Stories for Daring Girls is an empowering and uplifting collection of classic adventure stories, retold to celebrate the strong and independent girls at their centre. Showcasing the mesmerising illustrations of Khoa Le, this beautiful treasury includes both familiar and lesser-known characters who will capture the hearts and minds of young readers.
Inside you will meet Dorothy Gale, who freed faraway Oz from a terrible tyrant; Hua Mulan, who became a mighty warrior, legendary throughout ancient China; clever and powerful goddess Athena of Greek myth, who went toe-to-toe with Poseidon; and many more. These women strike out on their own with self-confidence, imagination, wit, and courage. They live without restraint or narrowly defined roles.
This tales will inspire the world-changing women of the future by fuelling their imaginations with relatable and aspirational role models.
About The Series
This title is the second in Arcturus Publishing's Inspiring Heroines series, following the much-loved Fairy Tales for Fearless Girls. Together these empowering tales celebrate strong female protagonists and inspire young readers to dream big.
About The Author
Samantha Newman is a children's book editor and writer based in London. Her previous publications include Cinder-Elephant and Octo-Puss in Boots for the Twisted Fairy Tales series as well as several adaptations of classic children's literature.
About The Illustrator
Khoa Le is an award-winning author and illustrator who has participated in solo and group exhibitions across Asia. She is the author of multiple children's picture books and has illustrated many titles with leading UK publishers, including Hachette and Usborne.
Notes For Editors
Perfect for young readers aged 8+.
A follow-up title to Fairy Tales for Fearless Girls, also illustrated by Khoa Le.
For fans of Goodnight Stories for Rebel Girls.
Each story is approximately 2,000 words long, perfect for a bedtime story
Publication Details
Publication Date: 28th Sep 2020
Format: Hardback
UK RRP: £14.99
ISBN-13: 9781838579852