Last updated 30 January, 2023
Series Spotlight: Super Dweeb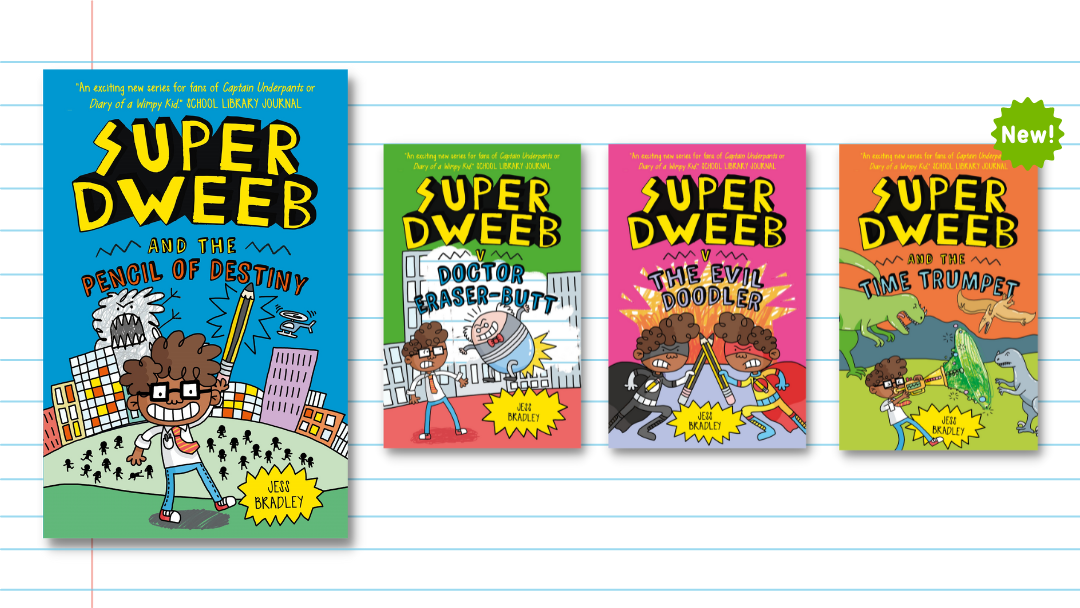 Written by Blue Peter Award-winning author and illustrator Jess Bradley, the hilarious Super Dweeb series tells the tale of certified dweeb Andy his discovery of a radioactive pencil which can redraw reality. Now, thanks to the power of doodling, Andy can bring to life anything that he can imagine, erase his problems, and doodle his way of sticky situations. But the situations just get stickier… Accompanied by his ice-cool side-kick Mona, Andy finds himself facing a series of nefarious villains, including Dr. Eraserbutt, Dr. Sidebottom and even Andy's doppleganger, The Evil Doodler. How can he defeat these sketchy characters…?
Told with a mixture of text and full-colour comic-strip storytelling, this series is perfect for fans of Captain Underpants, Dog Man and Diary of a Wimpy Kid. With lovable, relatable characters, it will appeal to all young comic-lovers and inspire kids to come up with their own superheroes, flaws and all!
REVIEWS
"Brilliantly bonkers" - JAMIE SMART, author of Bunny Versus Monkey and Looshkin.
"With fast-paced action and absurd humor […] Super Dweeb in an exciting new series for fans of Captain Underpants or Diary of a Wimpy Kid" - SCHOOL LIBRARY JOURNAL
"A funny, fast-paced and zany adventure, bursting with colourful cartoon-style illustrations" - BOOK TRUST on Super Dweeb and the Pencil of Destiny.
ABOUT THE AUTHOR
Jess Bradley is an award-winning illustrator and comic writer, who writes and illustrates Squid Bits for The Phoenix and also writes for the UK's longest-running weekly children's comic, The Beano. She won Best Book with Facts at the Blue Peter Book Awards 2021 for her illustrations in A Day in the Life of Poo, a Gnu and You.